November 16th, 2020 |
Corporate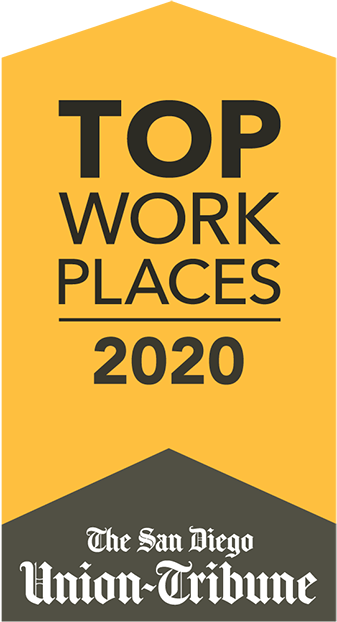 The Bumble Bee Seafood Company today announced that it has been awarded a "2020 Top Workplace" honor by the San Diego Union-Tribune. Company employees cited strong values, a positive, friendly and motivating culture, and a passionate senior management team as key company attributes.
The Union-Tribune's annual Top Workplaces list is based solely on employee feedback gathered through an anonymous survey administered by third-party research partner, Energage. Ninety-four percent of Bumble Bee employees participated in the survey, 17 percent higher than the industry average for food and beverage, as benchmarked by Energage. The highest-scored and most improved area was employee agreement with the statement "I believe Bumble Bee is going in the right direction."
"Our employees are the epitome of what enables Bumble Bee to continue to be a thriving company even in this challenging environment," said Jan Tharp, President and Chief Executive Officer for The Bumble Bee Seafood Company. "I am incredibly proud of our organization and very thankful to our employees for this recognition."
The Union-Tribune award comes on the heels of a series of key announcements made by the iconic seafood brand over the past 12 months, including the sale of the company to long-time partner FCF CO., LTD., the announcement of a joint venture with Gathered Foods Corporation, a $40 million commitment to sustainability efforts, and a ground-breaking new television and digital advertising campaign known as "Yes! Bumble Bee!"
The Bumble Bee Seafood Company employs more than 1,250 people, including nearly 120 at the San Diego headquarters.
ABOUT THE BUMBLE BEE SEAFOOD COMPANY
The Bumble Bee Seafood Company is passionately pursuing its purpose of feeding people's lives through the power of the ocean. The iconic 120-year-old fishing company consistently aims to deliver delicious, healthy and affordable food to consumers while working hard to find new ways to protect the ocean and those that rely on it. Bumble Bee is firmly anchored in a commitment to connect the world to the ocean by re-defining sourcing, producing and enjoying products from and inspired by the ocean.
Bumble Bee's full line of seafood and specialty protein products are marketed in the U.S., Canada and over 50 markets globally under leading brands including Bumble Bee®, Brunswick®, Clover Leaf®, Snow's®, Wild Selections® and Beach Cliff®. For more information about the company, visit TheBumbleBeeCompany.com. For product information, visit www.BumbleBee.com.
Read Full Article